A Tribute to Nate the Founder of Eberly Barns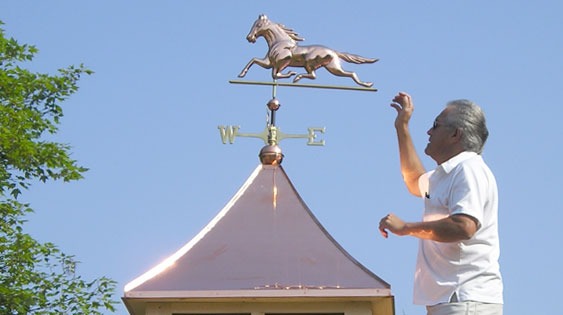 Naaman L Eberly, fondly known and highly respected as "Nate" in the shed business, passed away unexpectedly on January 12, 2009.
Nate and his wife Ann started Eberly Barns Inc in 2001. Serving horse enthusiasts up and down the East Coast with quality barns and excellent service from start to finish. Nate's famous motto was "We set it on a dime and give you a nickel change!" He lived by his motto too: a customer once wrote, "You set it on a dime and I got 2 nickels back!"
Nate was a man of his word. If he couldn't do a project, he was honest about it; he would tell you he wouldn't be able to do something. He wouldn't let you "hanging in the wind" so to speak either, he would refer you to someone that was reputable that could help you, even though sometimes it was his own competition.
He always encouraged his employees to do their best, and seemed to bring out the best in them with that encouragement. There was never a negative in Nate's eyes, instead there was always a positive outlook to everything in life. He not only passed that onto his employees, but his friends and family too.
Nate was a giving man too. He trusted everyone so it seemed, even when the rest of us may have questioned someone's integrity. He gave his heart and soul with everything he did, from building his company, working in a third-world nation building orphanages, to a stranger's marriage that was on the verge of divorce.
He rewarded his employees for a "job well done." It didn't have to be monetary bonuses, although at times it was, but his kind words of appreciation were a bonus in itself.
The company that bears Nate's family name and its fine reputation for quality barns and excellent service will continue on with his wife Ann Eberly taking the reins as President and Owner applying the same standards Nate had always set for himself, his company and instilled in his employees.
Thank you for allowing us to share Nate's story. And as Nate always said as he was going out the door every evening: "Thanks, have a nice evening!"