Run In Sheds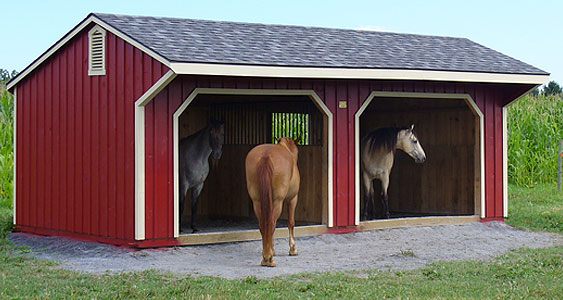 Our run-ins are a perfect addition to any farm or property. They're great for a quick shelter or for horses that prefer to roam freely. They're also one of the most economical ways to provide shelter for your animals.
Lined inside with four foot high oak kickboard, you can choose one or two openings on models over 20' in length. Our basic run-in's consist of three oak lined walls and an opening.
We can help you customize your run-in with options such as gable vents, drop vents, and windows for extra ventilation. We can even customize them with additional stalls or tack rooms. And be sure to check out all of the Bells n' Whistles that we can provide in order to make your structure truly unique!
Run-In Shed Gallery
Please contact us today to learn more and create a customized estimate. Our special package pricing makes it easy and cost-effective to create your own unique structure!