Kennebec Style Modular Barns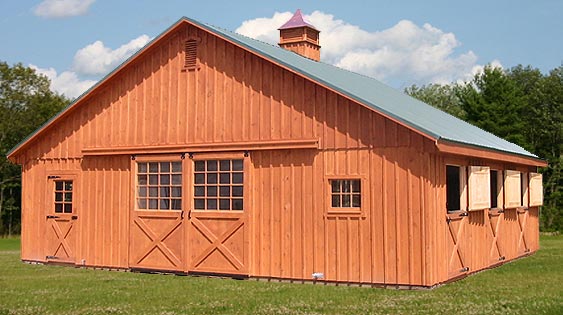 Our Kennebec series of modular barns feature a 6/12 pitch roof and are perfect for all climates, even those with heavier amounts of winter snow and ice. These barns come delivered in separate sections and are assembled quickly on your property by our crews.
Like all Eberly Barns products, our Kennebec barns can be customized to meet any visual or functional need. We enjoy helping our customers make their new barn unique. Additionally, our Kennebec barns include a choice of center aisle loft or full loft.
Kenebec Horse Barn Gallery
The possibilities are endless, so if you're looking for a horse barn, run-in or shed row, we would love to answer your questions, share ideas and create a customized estimate for your review. Please contact us today to learn more and get started!