Modular Barns From Lancaster County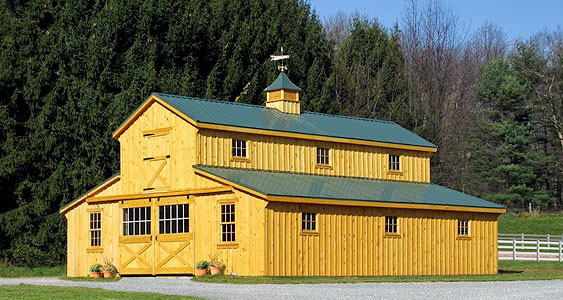 Modular barns by Eberly Barns are an easy way to add a beautiful, customized barn to your property without the hassle, time and cost of new construction.
We have the expertise to help you customize a design based on your own unique needs, deliver, and then assemble a completed structure on your property quickly and efficiently. It really is that easy.
Once you've decided on a basic structure and style of barn, we can talk you through all of the many options to help you customize your choice. This way, we can make sure that your new barn will be functional, stylish and accommodating to all of your farm's needs.
We can match just about any style or color you can imagine, so it's easy to custom design an Eberly Barns horse barn to perfectly complement just about any property.
Comes delivered in three sections and assembles easily.
The economy series of our modular barn line, without a loft.
A modular barn with an eight pitch roof and many configurations.
A popular style with an eight pitch, A-frame roof and multiple configurations.
A great way to add a stylish, cost-effective building to just about any property.
At Eberly Barns, we are all about customization. Regardless of the style of modular barn you choose, we can work together to make it uniquely yours. Please contact us today to get started!