HORSE BARNS FOR EVERY FARM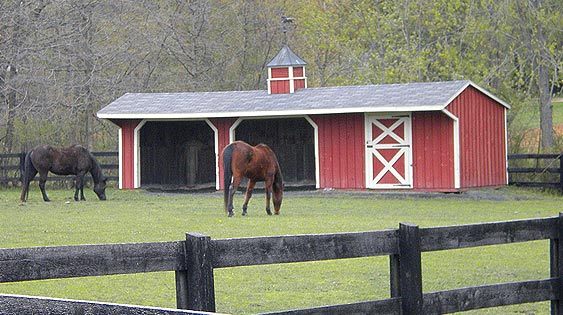 At Eberly Barns, we're proud of the many styles of horse barns, run-ins and shed rows that we carry. And with plenty of customization options available, the possibilities are endless!
Once you've decided on a basic structure and style of barn, we can help you customize your choice both functionally and visually. This will ensure that your new barn is as pleasing to the eye as it is useful to you and your animals.
We can match just about any style or color you can imagine, so it's easy to custom design an Eberly Barns horse barn to perfectly complement just about any property.
Perfect for a quick shelter or for horses that prefer to roam freely.
An economical way to put your horse in a safe enclosed area.
A fantastic way to add space without the added cost.
Customize an L-shaped barn specifically for your property.
From custom latches to hay racks, from chew guards to drop vents, vapor proof lights and more… we can help you customize a barn, shed or other structure so that it is durable, functional and aesthetically unique.
The possibilities are endless, so if you're looking for a horse barn, run-in or shed row, we would love to answer your questions, share ideas and create a customized estimate for your review. Please contact us today to learn more and get started!